This is a historical archived page that doesn't reflect current offerings and amenities please call (269) 674-8228 to make a reservation or for more information 
Breakfast Schedule 8:30am-9:30am
   Everyday day: on the Breakfast Bed.…
Seasonal Fresh Fruits:
Oranges, bananas, apples, raisins,
strawberries, blueberries, grapes, cantaloupe, honeydew,
Variety yogurts, hard boiled eggs, cereals, juices, milk, water, and of course our delicious Mosaic Colombian Coffee.
Daily: Chef's choice mix of sweet rolls, cinnamon rolls, oat bran muffins, hot oatmeal, bagels & cream cheese, English muffins, toast, bread; Butter, homemade jams and jellies.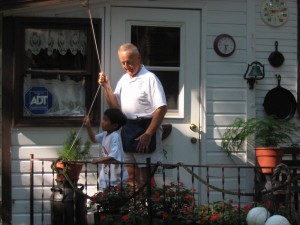 Uncle Bob and his line of friends waiting to ring the bell.
Menu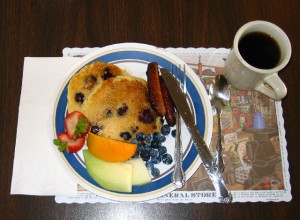 Monday                                                       
Pancakes, blueberry or plain with warm maple syrup,and Sausage links
Tuesday                                                                         
Scrambled eggs, over easy, hash browns, Bacon or ham, Toast or English Muffin
Oatmeal and fresh baked bran muffins
Thursday
Scrambled eggs, over easy, and bacon, Toast or English Muffin
Friday: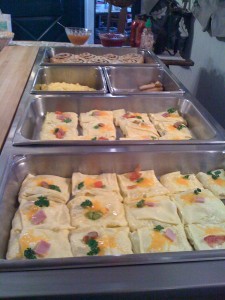 Red-eye gravy served over buttermilk biscuits
Hot old fashioned Oatmeal
Fresh baked Blueberry Muffins
Saturday                                                                        

Omelets:  Veggie, ham & cheese, plain
Uncle Bob's giant cinnamon rolls
Evening Meals Schedule 5:30PM- 6:30PM
Sunday:(6:00 PM dinner)

Chef's Choice: Working on a new menu: Possibly a mix between Picnic foods which we have done for years and a Great mix of Salads. You will be pleasantly surprised. Several students will take you down for S'mores by the fire pit. Then you are on your own to unpack, get settled, meet new friends and old, and RELAX.
You may bring your wine and drinks to the table; we will provide the glasses & corkscrew.

Monday
Salad Bed*
Roast Beef, roasted to perfection from rare to well done
Mashed potatoes and Susan's succulent homemade gravy
Fresh buttered green peas
Sour dough hard rolls, with roasted garlic cloves, butter
Homemade chocolate cake (An ancient no fat recipe) ala-mode
Tuesday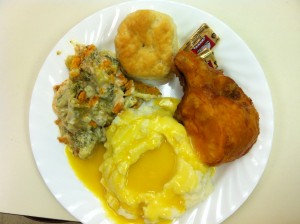 Salad Bed *
Southern Fried Chicken
Mashed potatoes and Susan's homemade     chicken\lemon gravy
Broccoli Casserole, an old family recipe
Hot Buttermilk biscuits and honey
   Peanut butter pie with caramel and chocolate   sauce
Wednesday
Salad Bed *
Pork roast tenderloin
Homemade Stuffing like grandma used to make
Bob's Mom's – not too sour -Sauerkraut, creamy with mushrooms and Butter Beans
Hot and spicy Applesauce
Vegetable medley, carrots, broccoli and cauliflower
Soft and yummy Sunflower seed bread & butter
Homemade banana cream and/or chocolate cream pies
Thursday
Salad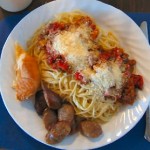 Bed *
Spaghetti & marinara or meat sauce
Spicy Italian sausage
Parmesan cheese
Oak Cove's Special Garlic Bread
Grandma Ivy's Fruit Cocktail Pudding Cake – a recipe from one hundred years ago
Friday 
Salad Bed *
Tangy Baked Ham baked in beer and 7up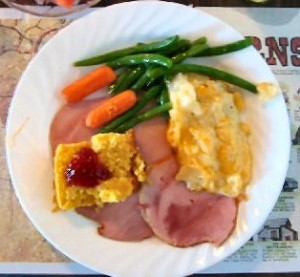 Cheesy scalloped potatoes
Green beans, Carrots
Really corny Corn Bread & Oak Cove's famous home made Raspberry Jam
Homemade seasonal fresh fruit pies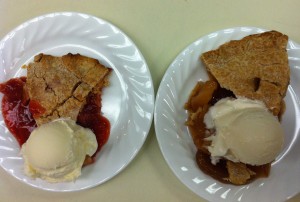 (Fish may be substituted for vegetarians or those not eating pork)
Saturday
Chef's Choice: Roast Beef, Beef Tenderloin, Fish Florentine ,Lemon Chicken, White rice, Moroccan rice, Mixed Vegetables, Baked Potatoes, Sweet Potatoes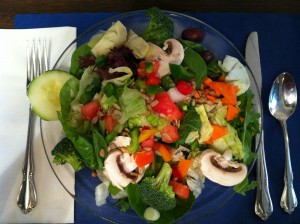 *The Salad Bed – This is our antique hand carved youth bed which sits in the dining room of the lodge.  It is over 100 years old and belonged to the woman who raised me (Susan) as our beloved housekeeper, Vera Ham.  She is the one person to whom I attribute my culinary skills – I learned at her knee.  Our daughter Courtney slept in this bed until she was four – At that time, Mrs. Ham was still with us, baking apple pies for Oak Cove guests at the age of 85.  We have since made this bed into a salad bar from which you may build your own salad from as many as 18-20  fresh ingredients.  We also make our own  seven salad dressings which are served from an old Singer sewing machine cabinet at the foot of the bed on a "Busy Susan".  No lazy here!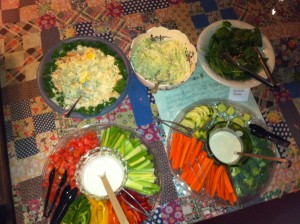 Ingredients:   lettuces: Ice burg,, Leaf, Romaine, Spinach, and specialty lettuces mixed-in:  including
variety lettuces, and hydroponic leaves (such as oak, escarole, endive, dandelion, etc. grown in water with no soil). Toppers include:  Carrots, celery, onions, green onions, cucumber, zucchini, yellow squash, tomatoes, green, yellow or red peppers, broccoli, mushrooms, red cabbage, garbanzo beans, black olives, green olives, kalamata olives, fresh cooked green peas, whole kernel corn, sunflower seeds, bacon bits, raisins, artichoke hearts, croutons, grated cheddar cheese,  diced hard boiled eggs, cottage cheese, pineapple chunks,   pepperoncini, cherry peppers, and anything else we can think to put out to please your taste buds.
Salad Dressings: Hidden  Valley Ranch made in our kitchen, Oak Cove French Dressing,  Zesty Italian  Salad Dressing, Caesar Dressing, Balsamic Garlic Dressing, Fresh Blue Cheese Dressing, and of course Olive Oil and several Vinegars.
Susan and Bob personally serve all OCR guests the delicious homemade meals that
our many guests have come to know and love while enjoying vacation time at
Oak Cove Resort.
– After all, You're on vacation!