Lake Cora is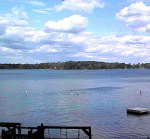 one of our main attractions — it is a very clean 300 acre, spring fed, sand bottom lake with good fishing and depths of up to 90′.  The lake is recognized as one of the cleanest lakes in  Michigan. We have many rowboats, canoes, kayaks, and paddle boats available for your use at no charge. There is also free docking space if you bring your own boat. A rental pontoon Boat available at reasonable rates. Lake Cora provides for very refreshing swimming and sunning from the beach or the floating raft, which we keep in 9 feet of water. Our heated in-ground pool is also available all day and evening for your enjoyment.
"The sandy beach has plenty of tree-shaded spots for lazy reading, and several swing sets for the little ones.  The main lodge rooms are comfortable, and the cottages ideal for families.  Susan and her helpers prepare delicious meals with wonderful vegetable side dishes and a big salad bar.  The owners are full of  ideas to help you enjoy yourself."  (Mike G.)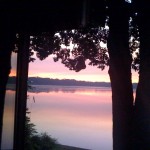 Our historic lodge and cottages are nestled in the woods on 16 acres overlooking beautiful, crystal-clear Lake Cora.  We serve 2 hearty meals per day, mostly buffet style with a plentiful salad bar. Mini-kitchens are in all cottages. Standard kitchens are in all houses.But our Oak Cove staff will surprise you with their tantalizing treats.  We incorporate the wonderful, fresh Michigan fruits and vegetables into our menu, and our many returning guests rave about our delicious food. See tripadvisor.com
The dinner bell sits atop the original Oak Cove Resort ice house (shown in upper-left margin on this website), and it heralds the beginning times for meals so you can surely leave your clock and cares at home. It is not unusual to see a line of children waiting to help ring the bell.  All meals are served in the lodge dining room and/or on the porch with a panoramic view of the lake, beach, and pier below.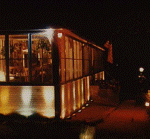 The Fun House features retro 1950's decor with a pool table, pinball machines, arcade games, a jute box, card tables,  TV/DVD (for those having a hard time breaking the habit). There is plenty of seating for friendly gatherings and conversation.  You are your own bartender at the bar, and there is a refrigerator and microwave oven for your use.  Filled with old games and newer movies, this common area is a nice place for meeting other guests.  Adirondack chairs and swings just outside overlook the lake below.  There are is also an ample library where you may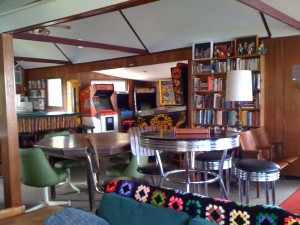 borrow a book and mail it back when you?re finished with it.
There's lots to do in the neighborhood, such as hiking our wooded trails, riding bicycles (provided), weekend flea marketing, antiquing, fruit picking, winery tours and wine tasting, etc.  We offer Free Golf daily at Lake Cora Hills GC, only 3 short minutes away!  You may also enjoy our property for volleyball, badminton, shuffleboard, horseshoes, fishing, swimming or sunning by the beach or pool.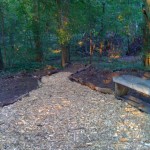 You may also walk our fitness circle, hike the trails or just sit on a swing, read a book and take in the summer breezes and views of Lake Cora.  Whatever mood strikes you, we have something for you!You'll love the tranquility and enjoy the activities – All of this –  located in Southwest Michigan just 2 hours from Chicago or Detroit.